As you know from our AMA '09 post below, we loved singer Alicia Keys' look. And, of course, we just knew that it had to be the work of Pantene celebrity stylist Tippi Shorter.
Read on to get the scoop on how she created the look!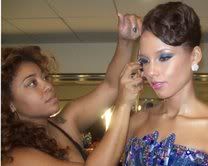 Fresh off of a recent hair lightening, Tippi started by washing Alicia's tresses wtih
Pantene Pro-V Color Revival Shampoo
&
Conditioner
to keep her hair color looking healthy and vibrant for the cameras.
Tippi knew Alicia would not only be walking the red carpet, but also performing twice onstage,
so she created a fun updo that would transform effortlessly throughout the night. Since Alicia is known mostly for her braids, Tippi decided to keep the braid, but give it a lighter, more romantic feel.
Tippi sprayed Alicia's freshly washed hair with
Pantene Pro-V Detangling Light Conditioning Spray
to condition and protect the hair before heat styling. She then blew out the hair using a Mason Pearson brush. Tippi sectioned the hair into three sections from front to back, gathered the two outermost sections and secured a ponytail using
Ojon Animated Styling Cream
.
With the center section, Tippi started an off-center braid from the nape all the way to the front.
She then tucked the end of the braid underneath the main braid and secured with bobby pins.
Tippi finished the look with
Ojon Tunu Elastik Hairspray
and
Bed Head Headrush Shine Adrenaline Superfine Mist Spray.
xo
Ferocia