Though the jury's out on Miss Sol-Angel (my roomie thinks she tries too hard to be different, my co-worker thinks she has the balls to wear what B never would), I for one lovelovelove her...and the album's not bad either. Her style is fashion-forward, fearless and fun...and if she gets it wrong, so what? Atleast, it's genuine. So Solange, kudos to you for inspiring me to dress a little freer (which included wearing a fedora to work yesterday...it drew a couple confused/disturbed stares from the older co-workers but lots of love and praise from my entry-level people). But...I'll leave the furry boas to you.
Solange's funky fresh style.
The perfect pop of color at the 2007 American Music Awards
.
Beyond Ferosh at MTV's TRL...ruffles, plaids, fur and Fendi...get i
t, Sol!
By the way, what do you guys think about the new trend: different colors on each nail? In my opinion, it's for the young and the brave, not office appropriate by any means! But fly nonetheless...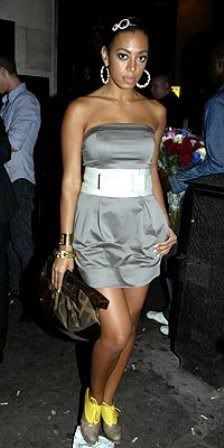 Ahead of the curve in London in a bubble dress and two-tone booties.
And you don't have to blow your rent money to get the two-tone look...
These sexy colorblock pumps are only $29.99 at metrostyle.com...you can thank me later!
Photos: Ken Babolcskay/IPOL. Bill Davila/Startraks.
George Napolitano/FilmMagic. 
Danny Martindale/WireImage. Errol Griffith/EMPICS Entertainment/ABACA.