Okay, I was so delirious last night that I left the remote in the fridge! Wow...a new low. We (Ferocia and I) have been pulling all-nighters (including a labor day session) to get our regular duties out of the way before Fashion Week and it's slowly catching up to us. 
Luckily, I'm energized by that kid-on-Christmas-eve/boyfriend-on-prom-night kind of anticipation as it's officially the first day of shows and I hustled harder than you can imagine to get tickets to the best designers in the biz.

FIRST STOP: RACHEL ROY.

There are very few designstars I'm crazy about because in most cases, their celebrity outshines their collection (hello, Lauren Conrad! Wait, but is she even a celebrity?). Rachel is not one of those designerstars. She could easily pull together a star-studded event with groupies clamoring to get in and paparazzi hovering over her every move but instead, she had a quaint, respectable gathering on the West Side---complete with nachos and this delicious lemonade cocktail (does anyone know who did the catering? Sorry, my other love is food.) 
And besides her hubbie, Dame, and his boy, Jim Jones, who both look bored and out of place in wife-beaters and white tees, it was a buyer/editrix-only kind of event. And just as well. Her stunningly modern and elegant collection was more than enough to hold our attention.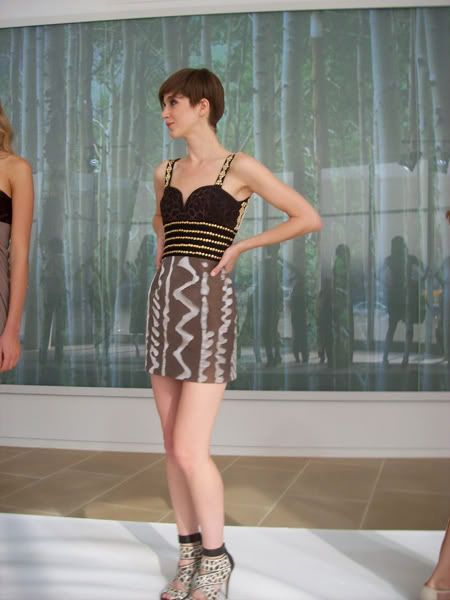 The collection was France meets Africa, a mosaic of culture that perhaps signals to Roy's own multiethnic background (she's Indian and Dutch btw...since everyone's asking). The beautiful dresses, skirts and pantsuits boast her signature womanly silhouette with fresh accents like tribal prints and edgy studded embroidery.
Every look from the easy silk jumpsuit to the purple jersey gown showed amazing growth. They were as classy and effortless as her past collections, but this time she designed for the unapologetically bold woman who commands the spotlight.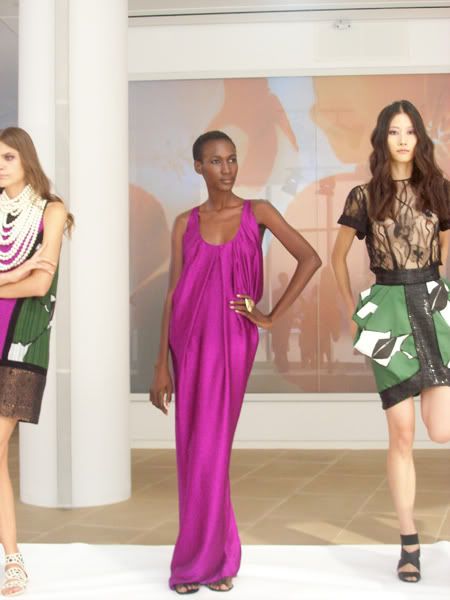 And the shoes! She designed them for Manolo Blahnik and they were as glam as you'd expect from the dynamic duo: fun, sexy and sophisticated to the smallest detail.
Rach looks even more beautiful in person, which I can't say for most celebs! (Yeah, I'm calling her Rach now because she's so my friend in my head a la Wendy like I picture us going to the museum, sipping wine and exchanging boyfriend advice). 
Oh and although most designers are scared to innovate because of the recession (more on that later) she experimented with prints and bold color and it paid off big time. You better work, Rach!

Angel Sanchez is next...stay tuned!
Kisses,
Coutura