Growing up, I used to sit Indian-style on our living room floor, transfixed by images of striking models in exquisite clothes on the TV screen. I would scribble designs in crayons on my pink construction paper and imagine I was a part of that world, gorgeous, glitzy and aloof.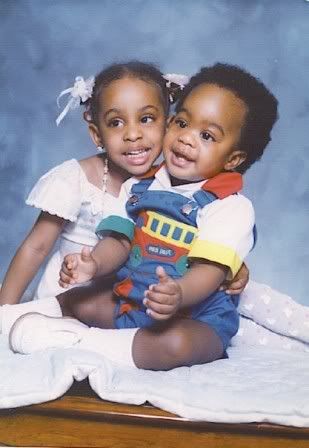 My brother and I around the time I was crafting my crayola designs...check out the bunny details on those tights? You love it!
I didn't know that my first introduction would be a pile of 300 invites that I was to RSVP for, divide into envelopes by date, accept no less than second row (if they gave my boss the third row, I was to call and demand a change or she wouldn't show up) and call people who she didn't receive invites from to find out what they were smoking that they forgot to send one, all in a half hour before she leaves for an appointment and so I don't miss the production deadline for the copy I have due that day or delay clothing returns to high-end designers that have to go out that afternoon.
Nor did I imagine that when I finally went to my first high-profile show, the initial showing of Sean John last February, that after RSVP-ing for my whole team, I would have to hound their press rep relentlessly for a week to get two invites (one for our Creative Director that got lost in the mail, one for myself that never existed) only to show up and see everyone I RSVP'd for on the list but me. And that after giving the most pleadingly pathetic look to the press rep who lets me in out of sheer pity (a rarity in the world of fashion press), I'd end up standing in front of the light fixtures in what would be the nosebleed section of a baseball game with no feeling in my right pinkie toe (blame my purple pumps) but feeling more grateful and exhilarated than ever before.
Diddy and Tyson hitting the runway while Lupe Fiasco's "Superstar" blares in the background at the show's end...it was def worth the week of harassment and numb toe!
The energy of the impeccably-dressed throngs of people rushing in and out of the tents, the magical moment where an innovative and flawlessly-designed garment hits the runway and a hush falls over the room and your heart stops, it's what I live for---it's what I spend my overtime hours working for...and I'm proud to finally be able to share it with you!
First step: navigate through the chaos that ensues once you make it inside the tents.
Pandemonium 101 also known as the line where the magazine editrixes shove their way to the front with invites in hand and the hangers-on (affectionately deemed the "fakes" by a certain PR girl) drop every name imaginable to get through the doors.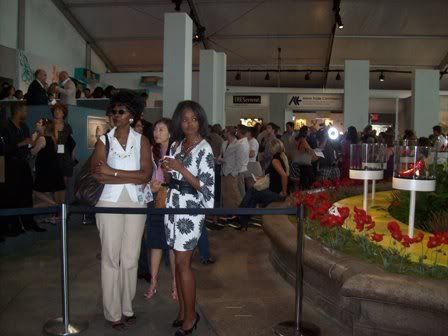 The standing line, which I've become very well-acquainted with over the years. (Sidenote: How chic is the glamazon to the right? The black/white print, the belted silhouette, the disinterested stare, lovelovelove it!)
So read on for my uncut fashion week journal, get a first glimpse of breathtaking designs from your favorite designers and a daily play-by-play of the world inside the tents…
Kisses,
Coutura