All hail the Voguettes...but what were those pink peeptoe flats about? Were they velvet? And wasn't it raining?
Anyway, today I was blessed to see the Badgley Mischka show and though getting an invite should have been enough, I HAD to have a seat too. I plopped down in the first open chair I saw with my head up (customary fashion week demeanor) but it quickly went down when a pr guy with a walkie talkie told me "these seats are for our sponsors only" in front of the whole standing section...humiliation 101. Luckily, I found a reason to flee when I spotted Jason Biggs (American Pie) being attacked by the Paps.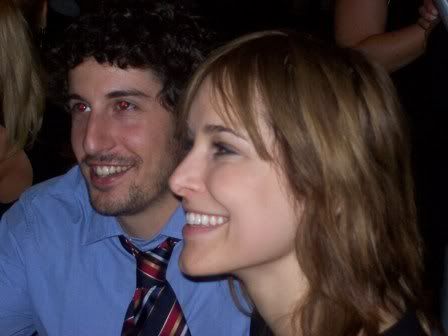 All in your personal space, Jason Biggs!
And then my editor reached her charitable quota for the year by calling and giving me her seat literally five seconds before the show started (Thanks, boo!). And when the lights came on, every garment that hit the runway, from the bikinis to the gowns, was absolutely spellbinding.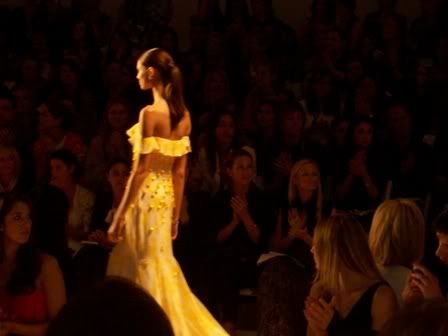 I am secretly in love with fellow glamazons, Mark Badgley and James Mischka...and this year, to the dismay of many of their loyal fans, they shied away from razzle dazzle and gave the sophisticated lady plenty of wearable pieces---from fresh floral prints to tailored coats.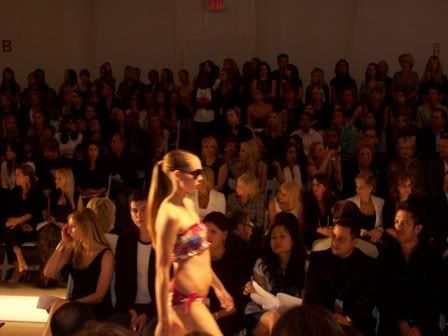 Sidenote: is that a little thickness I see? I was happy a model who eats regularly made it to the runway...my editor, however, was floored.
But their gowns still brought the drama (note to Erin: this is ruffles done right).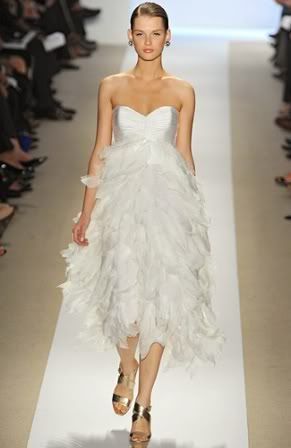 Ferosh.