When the e-mail came and my boss asked me to the attend the event, I was super stoked. It was a beauty breakfast for the new Lancomme mascara! And I'm OBSESSED with mascara!
So I get to the breakfast, feeling super fly sitting amongst the other beauty directors, when they pull out the new product:
Oscillation ($34, lancome-usa.com)
.
There in front of me it sits....and vibrates...I'm immediately confused. I mean, should vibrating things be near my eye?! The beauty directors/editors are in awe when we press the tiny button on top that makes it buzz.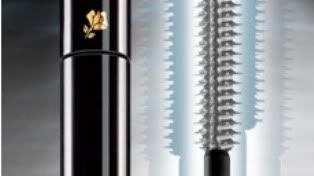 Then models come out and showcase how to use it. I kid you not, their eyelashes go from non-existent to super long and lush.
How does it work?
It's a battery operated brush that provides 7,000 micro-oscillations per minute, wrapping your lashes up to 360 degrees. Instead of the usual zig zag application, you just slowly apply it in straight, smooth strokes. And VOILA! Instant glam!
Oscillation officially hits stands on Wednesday, October 22. The waiting list for it has topped 13,000.
But, trust me my beauty mavens, it's definitely worth the wait!
xo
Ferocia
Images Courtesy of Lancome