They're glamorous, gorgeous and, like most girls, just wanna have fun! I'm referring to none other than the Victoria Secret's Angels....and yes, I can personally attest that they really do look almost as perfect as they do on televisions and in magazines. I (along w/a group of other beauty editor/directors) was given the honor of attending the VS Fashion Show at the Fontainebleu Hotel in sunny and beautiful Miami, FL (props out to my girls on the VS Beauty public relations team for hooking us up....they rock!).
We stayed at the newly renovated Fontainebleu and were surrounded by celebs every second of the weekend that we were there...it was mind boggling. (I even pinched myself just to make sure that I was really there!) Although I wanted to snap pics and get autographs from every celeb that I saw, I wasn't able to due to the massive bodyguards. Also, most just looked at you annoyed and said no if you even asked, so my beauty editor friends and I decided to just chill in the cut and talk amongst ourselves about who was who. During the opening night festivities that Friday,
Gwyneth Paltrow
jetted past us, cocktail in hand and paparazzi in tow;
A-Rod
stood beside us talking baseball with a group of men dressed in suits;
Brody Jenner
was seen canoodling with his newest Playmate girlfriend (who was wearing a dress so short and tight that I wondered if she could even breathe); and there were hordes of glamorous looking women who we couldn't identify but just knew that they were socialites (or perhaps just well-dressed gold diggers?) Once I spotted who the DJ was for the evening (
Nick Cannon
) I was hoping and praying that his lovely wife
Mariah Carey
would perform as well. (Confession: I've been in love w/her since her first album dropped when I was in sixth grade. I played the cassette so much on my little pink Casio radio that the ribbons wore out and I had to save up more money to buy another one!) And my prayers were granted: I rushed to front of the stage and lost myself to the tunes of 'Touch My Body' and 'Dream Lover.' (There was even a point where I thought I was going to pass out when she touched my hand...sigh.)
The next day, we walked around the $1 billion renovated hotel and lounged at the pool. (There we spotted
Kim Kardashian
chatting on her cell phone,
Amanda Bynes
and Gossip Girl actress
Jessica Szohr
and music artist
Cee-Lo
.) We were treated to glittering spray tans by Jimmy Coco (one of his top clients out in L.A. include the ever bronze
Victoria Beckham
) and in room mani/pedis. We even had our hair and makeup professionally done in our rooms! (My makeup artist caked on tons of face powder, intent on making sure that I was red-carpet camera-ready even though I told her that I wouldn't be walking the red carpet!)
The fashion show itself was held right off of one of the main pool areas in a huge white tent; which was hard to believe that you were in a tent once you walked inside because of the fancy runway and all of the lights and cameras!
While waiting in line to get inside, we spotted former Danity Kane member
Aubrey O'Day
frantically tipping around in her tacky super high pumps looking for the entrance to the red carpet. (What a hot mess! Honestly, if you're supposed to be a celebrity, then you should always know where the red carpet is...geez!)
At the show, we sat a couple of rows up from
Diddy
(who sat next to
Martha Stewart
....they were chatting like bffs!). We also spotted R
ussell Simmons
,
Gabrielle Union
and
Sanaa Lathan
. And, at the end of the show, we were super excited to spot
Paris Hilton
texting away on her cell! All in all, it was an amazing weekend and it was so hard for me to leave. Make sure you check out the show when it airs live Wednesday, Dec. 3 at 10/9C on CBS!!!
xo
Ferocia
The lobby area outside of the main ballroom at the Fontainebleu Hotel in Miami.
Inside my hotel room.
Each room came equipped with MAC computers and free internet service! (Also note on the right the amazing bottle of champagne the VS Beauty public relations team left us tee hee hee)
Mariah Carey performing....loved the blinged out mike stand and matching microphone!!
Chatting w/head makeup artist for the show, Charlotte Tillbury. Her inspiration for the makeup look?: Bambi.
"We used a lot of body contouring and less glitter this year. I think this look makes them look really fresh, beautiful and glamorous," she said. One of the top products used this year behind the scenes is the VS Beauty Body Perfecting Spray.
"We spray it on top of the tops of the legs and as a highlighter down the center of the arms," she said. "The models know that contouring is something that will make them look good when they walk down the catwalk. It's a great optical illusion."
The amazing Jimmy CoCo gave us (along w/the other VS Angels) spray tans.
Some of the poolside entertainment that we saw while lounging near the pool area.
This lady was literally humping the excercise ball beneath her.....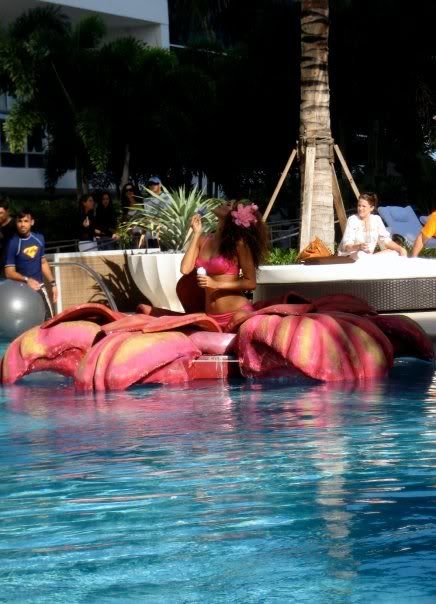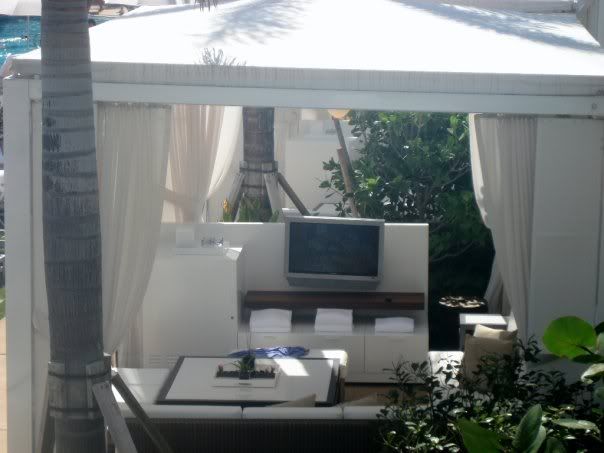 The cabanas at the pool.
That's the huge white tent across the pool and behind the palm trees where the fashion show was held.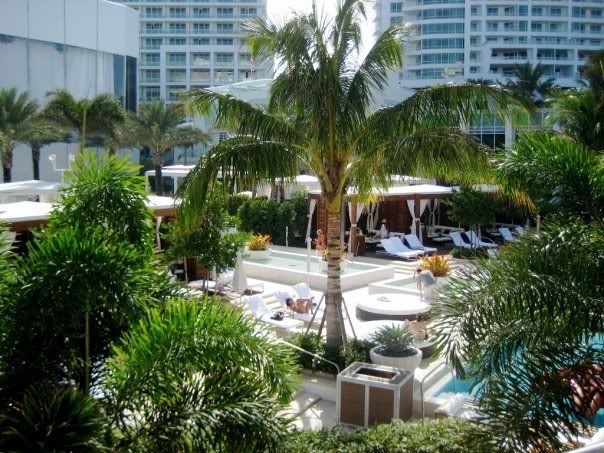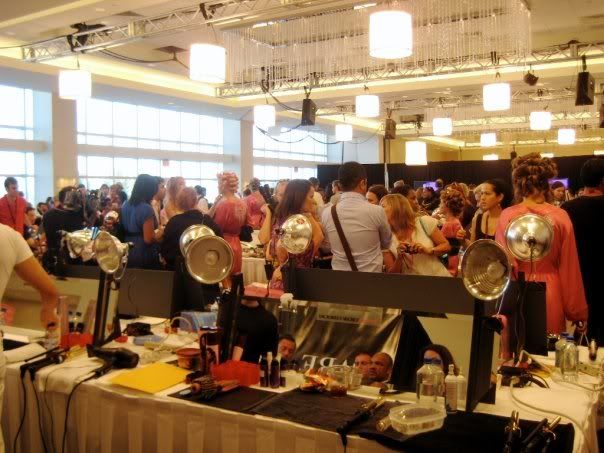 The backstage area.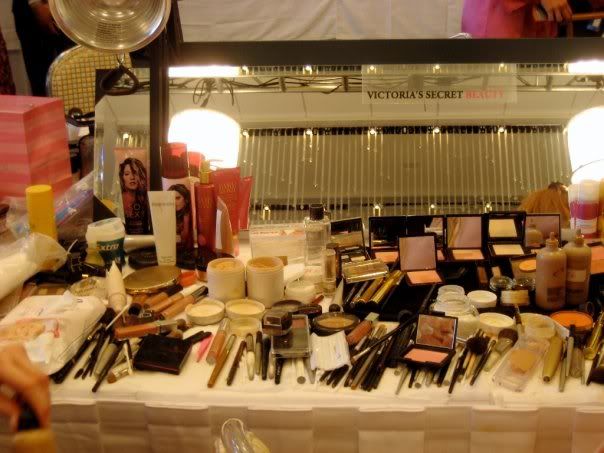 Tons of VS Beauty makeup was used!
Head makeup artist Charlotte Tillbury perfecting the look on one of the models.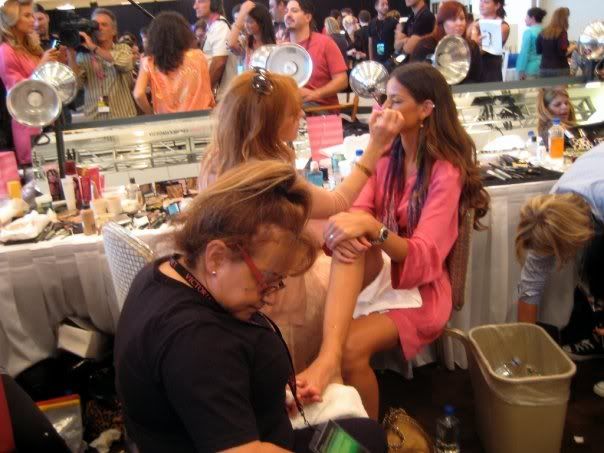 Two seconds later, the model begins her mani/pedi while Charlotte finishes up her makeup.
A makeup artist getting the chocolate brown eyeliner just right.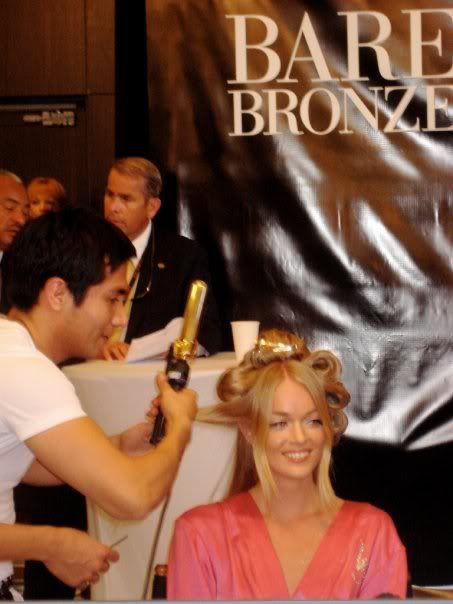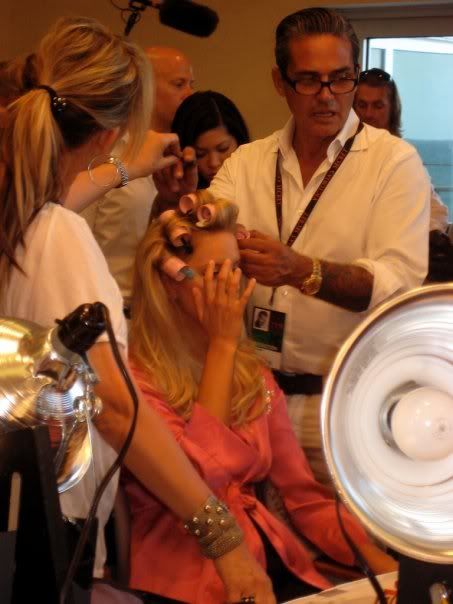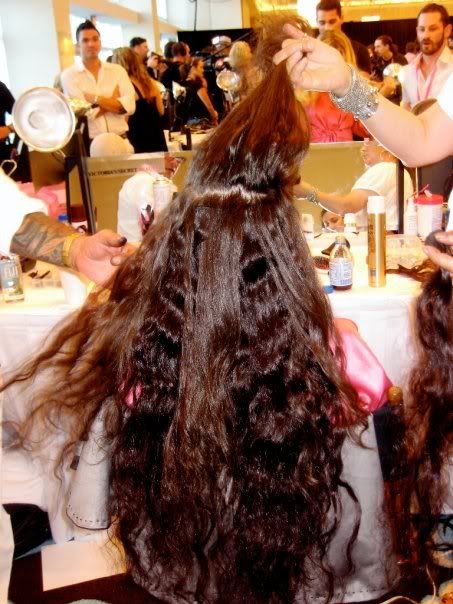 Head hairstylist Oribe Canales used lots of clip-in extensions to create the hair look.
"This year, the hair is sexy yet somewhat approachable," he said. "We used very little product because we wanted it to be light and move. It looks nice and sheik."
One of my fave VS Angel Selita Ebanks munches on Doritos while getting her mani/pedi backstage. (She later shared some w/me!)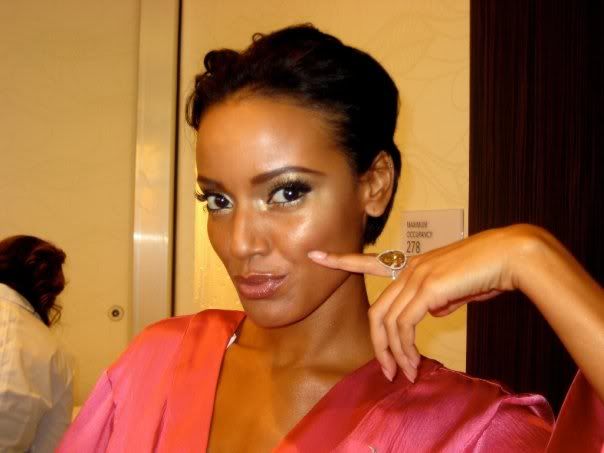 Selita showing off the finished eye makeup look. Her favorite beauty product?
"I love the VS Very Sexy Mascara in blackest black because it lengthens, thickens and darkens my lashes," she said. (And yes, all of the models are wearing false eyelashes which are then layered with mascara to make the eyes pop as they cruised the runway.)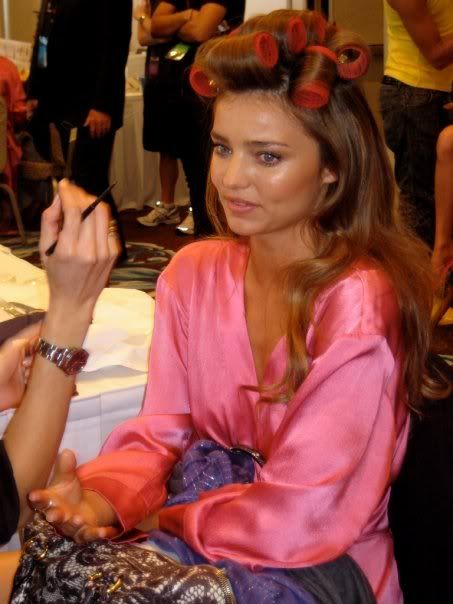 The gorgeous VS Angel Adriana Lima chatting it up with reporters.
VS Angel Heidi Klum getting her makeup done.
She was very sweet =)
Heidi and VS Angel Marisa Miller blew us kisses.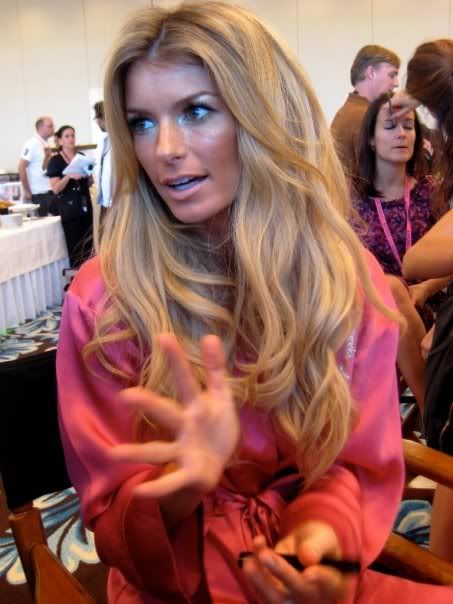 Marisa chatted w/me about her love for surfing....I told her all about my first surfing adventure that I had over the summer!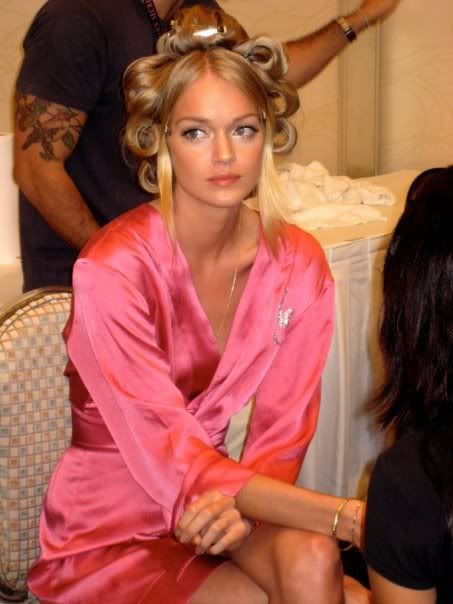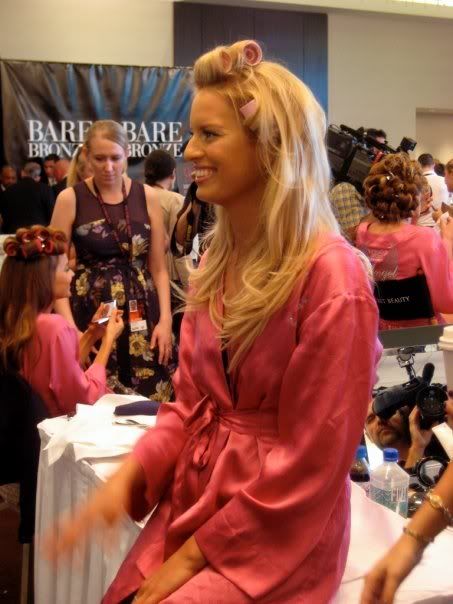 My beauty editor friend April Franzino from Good Housekeeping strikes a pose w/Marisa.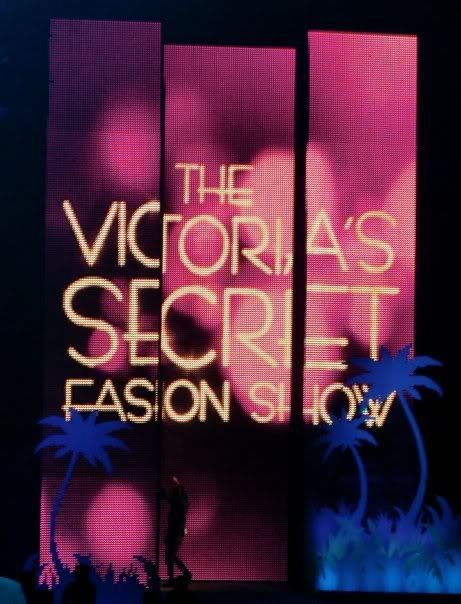 My beauty editor friend Heather Muir from Cosmo and I waiting for the show to start.
Diddy!
Gabrielle Union greeting Diddy and Martha Stewart before taking her seat.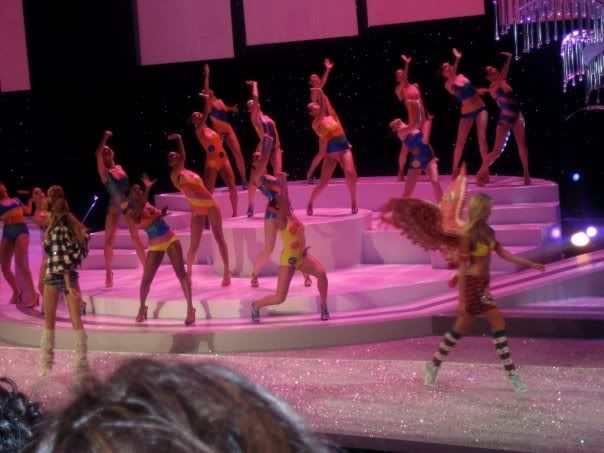 Amazing PINK dancers performing in the background during the show to 'That's Not My Name' by The Ting Tings (love them!).
Usher also had a pretty amazing performance.