As the assistant, you get the opportunity to meet some of the best hairstylists and make-up artists in the business. And Ursula Stephens, the stylist responsible for the cult cut of the century ("The Rihanna,"), is right there at the top of the list. What's great is that for all her success, Urs is extremely down-to-Earth, a rarity in the fashion/beauty industry. And once she gets those clippers in her hand, it's game over.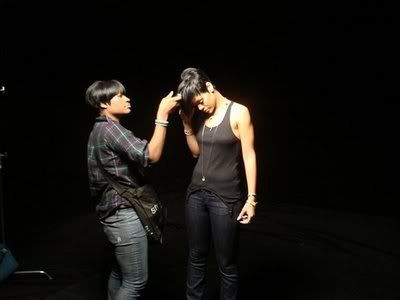 So of course, the Fashion & Beauty team came out to the L'Oreal Projects Institute to show love and support. While Urs looked lovely and was adorable as usual, between the bourgeouis black women and gay black men, I felt like I was trapped in a hair salon in Atlanta.
Besides Michelle Williams, the host and one of Ursula's clients, who belted out a soulful rendition of "Happy Birthday," and Urs draped in Herve Leger's ubiquitous bandage dress, the celeb quotient was below zero. 
Free emerged from relative obscurity looking lonely and lost. I can't fathom how as a "celeb," or atleast someone we've seen on TV, you can get out of bed, throw on a coat, barely run a weave brush through your hair and come to a party full of make-up and hair artists.
The good news? Michelle's cut looked beautiful (she's actually stunning in person) and the myriad of Ursula-inspired Rihanna clones was entertaining to say the least.
Glam.


Very cute.
What do you guys think of the rattail weave? I remember my fourth-grade boyfriend had a braided version that looked random and foolish. I didn't like it then but now, it's sorta cool and edgy. The new mohawk. Would you ever rock it?
Umm, why you threw a kool-aid red hair piece on a drab cut and thought you looked like Rihanna, I'll never understand. I get funky, but this is eight types of wrong no matter how you look at it. 

Oh, and Sam Fine, was there in a head-to-toe Andre Leon Talley-esque get-up. Try as you might, you can't be mad at that red-leather-michael-jackson-in-bad-jacket-plus-fur-hat fierceness! Sasha would be proud.
Until next time, what Rihanna-inspired hair cuts are you loving---or praying will disappear?
Oh and here's the trendsetter in her newest video, "Rehab," with Justin. The fashion is FEROSH, enjoy!
Kisses,
Coutura