It's freezing outside. I'm in a sequined Tracy Reese dress, gold stilettos, a fur shawl, scarf and peacoat (did I mention it was freezing?). I arrive early to Love, formerly known as Dream, the famed club in DC that guarantees every event will be a production. The last time I went there was during Howard Homecoming circa 2006 where I waited in line for 2 hours before being coaxed into paying a $75 cover (ugh...even saying it now hurts). Tonight, I walk up to the sign bearing the first letter of my last name, give my credentials and walk right in.
Here's the TR dress and Adrienne Landau fur. Yeah, we went all out...
Miss Beautylicious
was the picture of elegance. Love the stole!
Where last time the girls strutted around in strappy sandals and too-tight latex dresses, tonight they're sporting metallic minis and furs.
Something's unusual about this party.
For one, it's the inauguration weekend of the first black President in U.S. history. But the main difference is probably the host:
Diddy, Puffy, Puff Daddy, Sean Combs
, whose various nicknames are all synonymous with spectacle. The man can throw a good party.
He left his stamp on everything from the choice of music (Prince! Jay-Z!) to liquor (Ciroc flowed freely throughout the club). Videos from Bad Boy's golden era, which are especially poignant after seeing Notorious the night before (more on that later), flash across huge screens. Though the 21-25 attendees are actually dressed like they're auditioning for a Bad Boy video, no one is dancing...except me of course (I came out in this frigid weather so I'm determined to make the most of my night!).
On the second floor, we make our way to the stage where a couple of DJ's from 93.9 "Obama" FM seem to be stalling for a celebrity appearance...or performance? Here's where the fun starts. After dancing to the best rap tunes on the radio (hello Kanye! The Dream! T-Pain and Jamie Foxx!), the DJ decides to play a guessing game: Guess which music icon is in the building? Our minds are spinning...Jay-Z? JLo? Biggie reincarnated?
"Stevie Wonder," he screams and the crowd goes insane.
(Impressive given they're all a bit young...I know, I am too, but we grew up on Stevie at my house! He's the 6th member of our family.)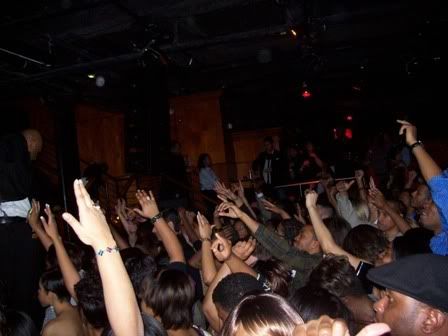 The crowd rocking out to the hottest music on the radio! The DJ was one of the best I've heard in a while.

Seconds later, the legendary singer/songwriter emerges on the stage (being led by an entourage), plops down on the couch and starts grooving to the music like nobody's business. I almost stop breathing. Everyone who knows me knows I am a HUGE
Stevie Wonder
fan, about 160 songs on my iPod, I kid you not. This is not a star sighting, this is
the
star sighting.
Diddy
and
will.i.am.
follow and before we know it, it's a star-studded event. Stevie blesses us with a passionate speech about the inauguration, acknowledging that Martin Luther King, Jr.'s dream has finally been fulfilled. "A goal set is a goal met," he says before jumping into a rendition of "Happy Birthday!" the song he wrote years ago while campaigning to make MLK's birthday a national holiday.
I always wanted to hear Stevie sing and amidst the chaos and chatter of the crowd, I finally get my wish.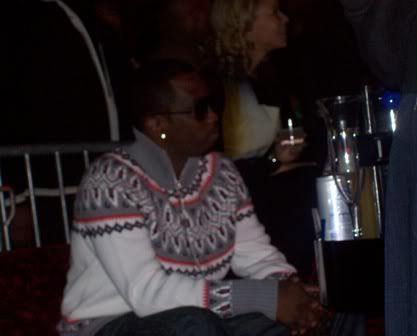 Diddy rolls up in a sweater and bubble vest (Is this a men's fashion trend this weekend?
Dr. Ian Smith was just wearing it last night.
But it IS freezing.) He immediately jumps onstage and announces to the crowd, "I just woke up!"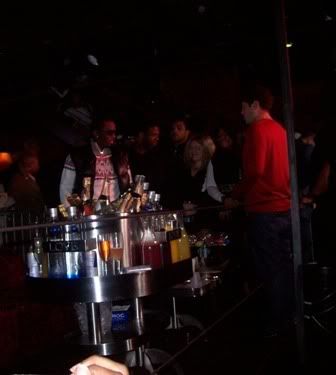 I'm secretly disappointed he's not wearing the white suit and black tie from those "I Am King" cologne ads. Nothing like a sharp black man.
After Stevie's song,
Diddy
steps to the mic with a rousing remark about the significance of our first black president, and his giddiness is contagious! The entire crowd is on their feet, smiling, dancing and bursting with excitement.
As partygoers scramble to capture the moment on camera, I realize tonight is a memory I'll always treasure.
Two moments stay in mind: first,
Diddy
chatting it up with
Stevie Wonder
in VIP. Here's a man whose vision shaped hip-hop culture shooting the breeze with one of Motown's most revered musical geniuses. And secondly, watching
Stevie
sway to songs from Biggie and Beyonce, even singing lines from recent hits along with the entire crowd. What generational gap?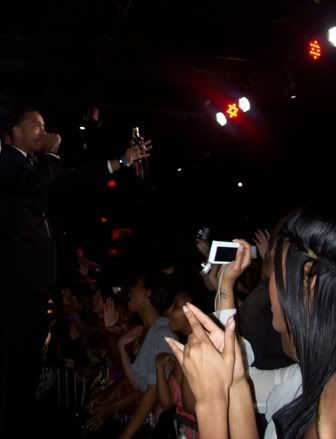 Oh and speaking of our generation, Terrance J. from 106 and Park was there. He was pouring Ciroc into some lucky audience members' empty cups. Sharing is caring.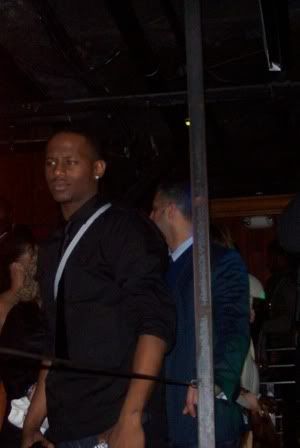 And that handsome assistant from "I Want to Work for Diddy!" was there (His name is Mike for those of you who weren't glued to the TV screen every Monday). I have to say, I could relate to the boy. Standing up (while everyone else sits) holding Diddy's coat and trying to stay out of the way. Reminds me of my 9-5 =) Hang in there, Mike!

Amazing night. Back to bed (Finally! Nobody's sleeping in DC!!) before the free concert tomorrow.
A humbled and elated,
Coutura