'Tweens are easily insulted by gifts that seem childish; and toys are at the top of the kiddie list. Once your 'tween turns 10, gadgets and gizmos replace play things. Get in the game with the most inexpensive electronic options of the season.
Hands down, the Wii, Playstations 3 and Xbox 360 are the most popular tech items around. If your 'tween is lucky enough to own a system, he or she will love these three new games.
Have a 'tween that loves football? Madden 09 for Xbox360 is the perfect gift, whether for a beginner or a seasoned pro. The updated classic even boasts a Training Center, where you can sharpen your skills on and off the field.
Madden NFL '09 game for Xbox 360, $60, sears.com.
If your 'tween loves to perform, give the gift of music with the latest version of Guitar Hero or the popular karaoke game, Singstar.

Singstar game (including microphone) for Play Station 3, $60, Wal-Mart stores nationwide. You can download unlimited songs on Play Station 3's Online "Singstore," and perform them for friends and family!
Guitar Hero World Tour for Wii, $85, walmart.com.
There are tons of inexpensive gizmos this season, like ipod alarm clocks and camcorders, that will impress your 'tweens at the press of a button.
i-Dog, $30, target.com. i-Dog is sure to be a 'tween favorite. It lights up and moves around to the music you play!

iPod Alarm Clock, $50, ihomeaudio.com.
Apple iPod 3rd Generation 1GM Shuffle, $50, target.com.

Limited Too rhinestone phone with cord, $23, limitedtoo.com.
Boompod Audio Chair, $50, target.com. Perfect for a 'tween boy's room, this battery-powered chair links to your ipod, MP3 or CD-player.
ICarly digital camcorder, $80, toysrus.com.
Samsung 8.1MP Digital Camera S860, $100, target.com.


'Tweens love to personalize their gadgets with stickers, crystals, pictures and more. While some crystal cases run up to $300, you can save a bundle by buying the Crystal Icing Kit and letting your 'tween do the decorating. They'll enjoy giving their ipod or cell phone that unique, personal touch.
Crystal Icing kit, $35, and stickers, $7 each, crystalicing.com.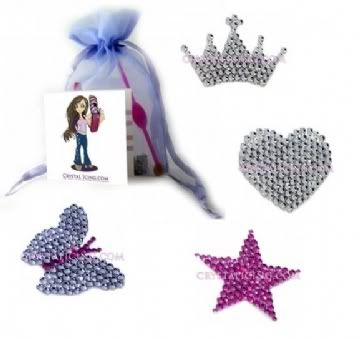 Happy Shopping!
Kisses,
Coutura